Meet Pepper Branding Services
Craft a brand identity that aligns with your values + makes an impact with Pepper Branding Services:
Branding strategy questionnaires and meetings
Mood boards
Logo design
Brand colours and fonts
Customized brand guides
Brand messaging
Brand name creation
Branded template design
Pepper's Branding Services will take your business to the next level
A kickass brand is the foundation of a solid business. Whether you have a new biz, you've been in the game for a while but never really solidified your branding, or it's simply time for a brand refresh, we got you covered!
Developing a lasting brand identity is more than just creating a logo. Your brand is a representation of what your company stands for, and who you are as a business. Pepper Branding Services for creative entrepreneurs and small business owners will help you work through a comprehensive, interactive workflow that will result in a brand that not only looks great but truly represents the messaging you want your clients to hear.
A brand without a voice is like a piece of toast with no butter; it's just plain and boring. Our brand strategy and development will help ensure that your biz is dripping with melty, salty, buttery vibes.
DOWNLOAD OUR BRANDING SERVICES GUIDE TO LEARN MORE
Pepper's Branding Packages are customized based on your needs
---
BRAND DEVELOPMENT
CREATE A FRESH BRAND THAT'S EFFECTIVE + INSPIRED
Moodboard
Responsive logo concepts
Colour palette
Typography
Full brand guide
---
BRAND INTENSIVE
FOR BRANDS THAT HAVE A VISION AND WANT THEIR LOGO IN ONE DAY
Moodboard
Responsive logo concepts
Colour palette
Typography
Mini brand guide
ADD-ON SERVICE: BRAND MESSAGING
DIAL IN ADDITIONAL ASPECTS OF YOUR BRAND
Brand essence including personality, voice, tone, value proposition, tagline, and messaging pillars.
---
ADD-ON SERVICE: BRAND NAME CREATION
CHOOSING A BRAND NAME IS A BIG DECISION; PEPPER IS HERE TO HELP
Discovery call, brand name research, and delivery of 5 potential brand names to choose from.
---
ADD-ON SERVICE: SOCIAL MEDIA BRANDING
BRANDED TEMPLATES TO TAKE YOUR SOCIAL MEDIA UP A NOTCH (OR 5)
Branded, editable social media templates created in Canva or Adobe, based on your preference.
Instagram templates including highlight icons, story templates, and post templates.
Facebook templates including cover image templates and post templates.
---
ADD-ON SERVICE: PINTEREST BRANDING
SCROLL-STOPPING BRANDED PINTEREST TEMPLATES
10 different branded, editable Pinterest templates covering:
Long pin, quote/tip pin, simple pin with title, image pin with title, checklist/info pin and an idea pin.
How do Pepper Branding Services work?
Once you sign on to work with Pepper, we schedule a working meeting that will walk you and your team through the foundations of developing your brand.
Before the meeting, we will provide you with an overview of the concepts so your team can come prepared to get down and dirty with their visions, creative ideas, and concepts. We will be doing interactive brainstorming sessions, so drink an extra espresso shot that morning!
Then, the magic begins!
What TF are Pepper Flash Brands?!
Need a new brand but don't have the funds to pay for a full branding package? This is exactly why Meet Pepper offers Flash Brands!
Developing your branding can be a daunting and lengthy process that exceeds the budget of many small business owners. We wanted to bridge the gap between a cheap Etsy logo and a complete re-brand by offering our Flash Brands—something in the middle that's affordable and fast.
Our Flash Brands are perfect for you if:
you have a semi-defined presence but are not yet ready for the entire brand strategy and positioning that a full package offers.
you're a startup, small business, or entrepreneur.
you are operating on a tight budget but still need some biz essentials.
Meet Pepper's Flash Brands are unique, only being sold once! The Flash Brand assets are pre-designed and ready to go—they only need your business name (and tagline, in some options!). Once you purchase and send us your details, your Flash Brand will be ready in 2 business days! Talk about FLASH!
Each Flash Brand includes:
Custom Moodboard with:

six descriptive style alignments.

imagery + aesthetic alignment.
language + vibe alignment.

Brand Guide, including:

Logo usage details + logo element breakdown
Colour Palette + breakdown
Typography + breakdown
Your logo files in PNG, JPG and Vector formats

Video walkthrough of the elements
All logo variations in PNG, JPG, and Vector
Each Flash Brand will only sell once, so grab it while you can!!
meet pepper Flash Brand Process:
After picking your perfect Flash Brand, you will be emailed a receipt and sent a form to fill out with your business name and any extra details we need for your custom brand!
We will work our magic behind the scenes, and then you will receive all of your goodies within 2 business days. (Please keep in mind we work Monday to Thursday!)
---
Meet Pepper flash brand Fine Details:
If you are interested but want to request edits to the colour palette or minor tweaks to the brand, we can accommodate any of these at our hourly design rate. Email us @

[email protected]

for a custom quote on edits.
All images used are for reference only and are not licensed for your use.
Marketing visuals are not included and are used for promotional purposes only to depict possible uses of the brand!
The brand will only be sold once, so it will be completely unique to you!
The logo may vary slightly in appearance if your name or title differs dramatically in length from that shown in the images. Unfortunately, we cannot offer extra reviews or edits if this is the case but will be happy to guide you toward the right product for your name + business.
Once a brand is bought, it will be replaced by one focusing on a different style or genre, so act fast if there is one available for your particular vibe or niche!
Current Flash Brands available:
Made with elopement and micro-wedding photographers in mind, this Boho Photography branding is an elegant (while still minimal) option for any photographer or creative!
An organic and earthy palette helps to balance the feminine edge of the design, making it incredibly usable and unique.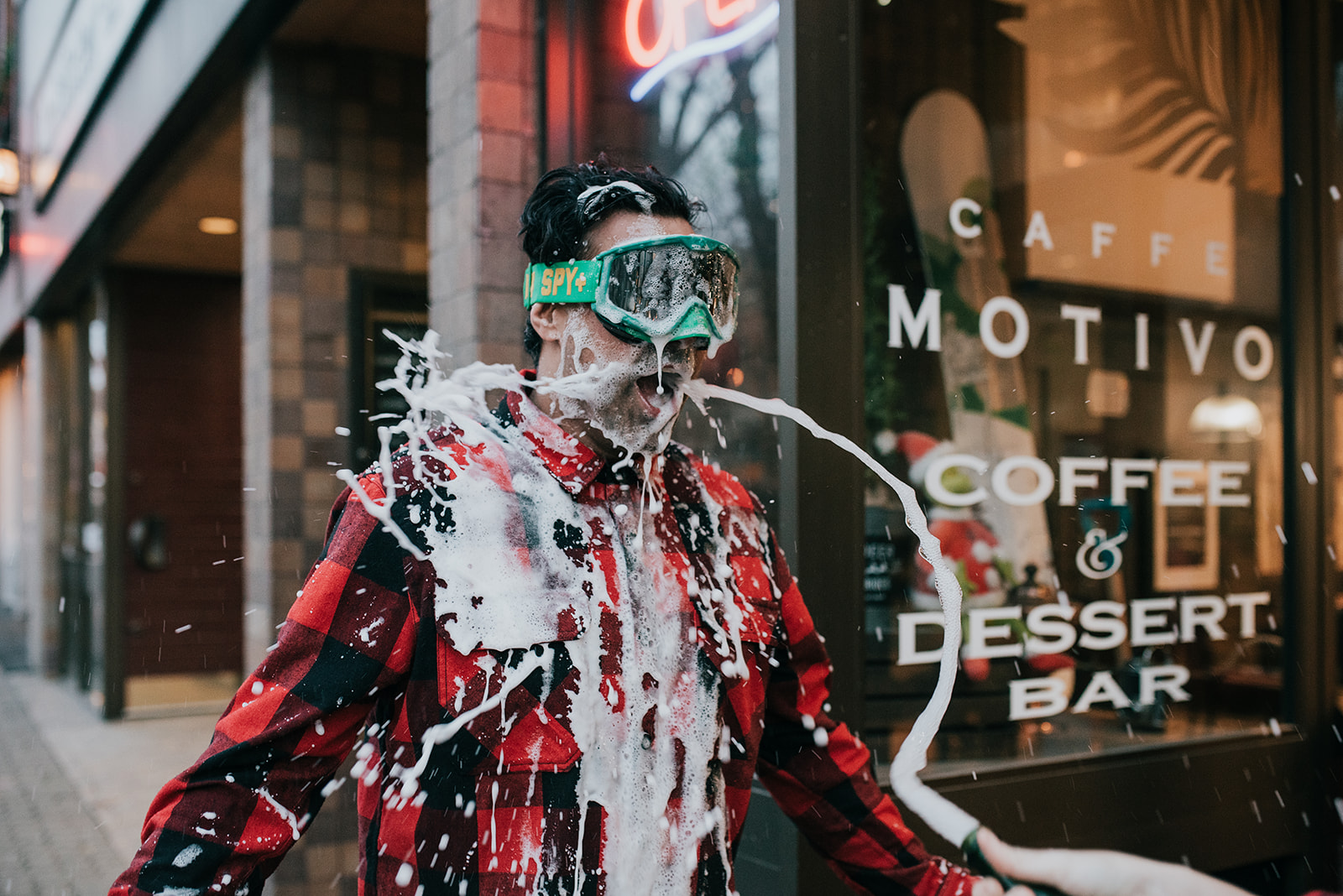 How do I know if I need to re-brand?
A killer brand will help you:
Understand who you truly are as a business
Communicate your message consistently and effectively
Position yourself in your industry
Attract the right clients
Make important decisions about your business
How does your current brand make you feel? Does it align with your values and goals? Does it align with your ideal client? What message does it send out into the world? Is it outdated? Is it non-existent? Does it make you feel excited and proud? Is it time for a refresh?
Chances are, if there's a nagging voice in the back of your mind telling you it might be time to refresh your brand, then it is.
Branding for photographers and creative entrepreneurs can be especially intimate because usually, you are your business. So when you think about your brand, it should just feel right.
That being said, your brand should also feel right to your ideal clients. And sometimes, this can be a hard thing to see when you've become so attached to your business. It's like trying to see your brand from the outside, when you've always been on the inside. That's one of the reasons why bringing in some fresh eyes and brains is so dang important!
If you're thinking about changing up your branding, hiring a branding agency will save you a shit ton of time, frustration, and the risk of not being happy with the results. Because that's no fun at all!
Book in a consult now and hire Pepper as your marketing team!
---