Was your photography Instagram account deactivated, disabled, deleted, hacked, or just plain old shut down for no apparent reason? Oof—we feel for you. We know you're probably stressin' the eff out right now, and we hope this blog helps!
Or maybe you've noticed other photographers' Instagram accounts being disabled, or seen them sharing new accounts claiming that "Instagram deleted my account" and you want to know how to prevent that from happening to you.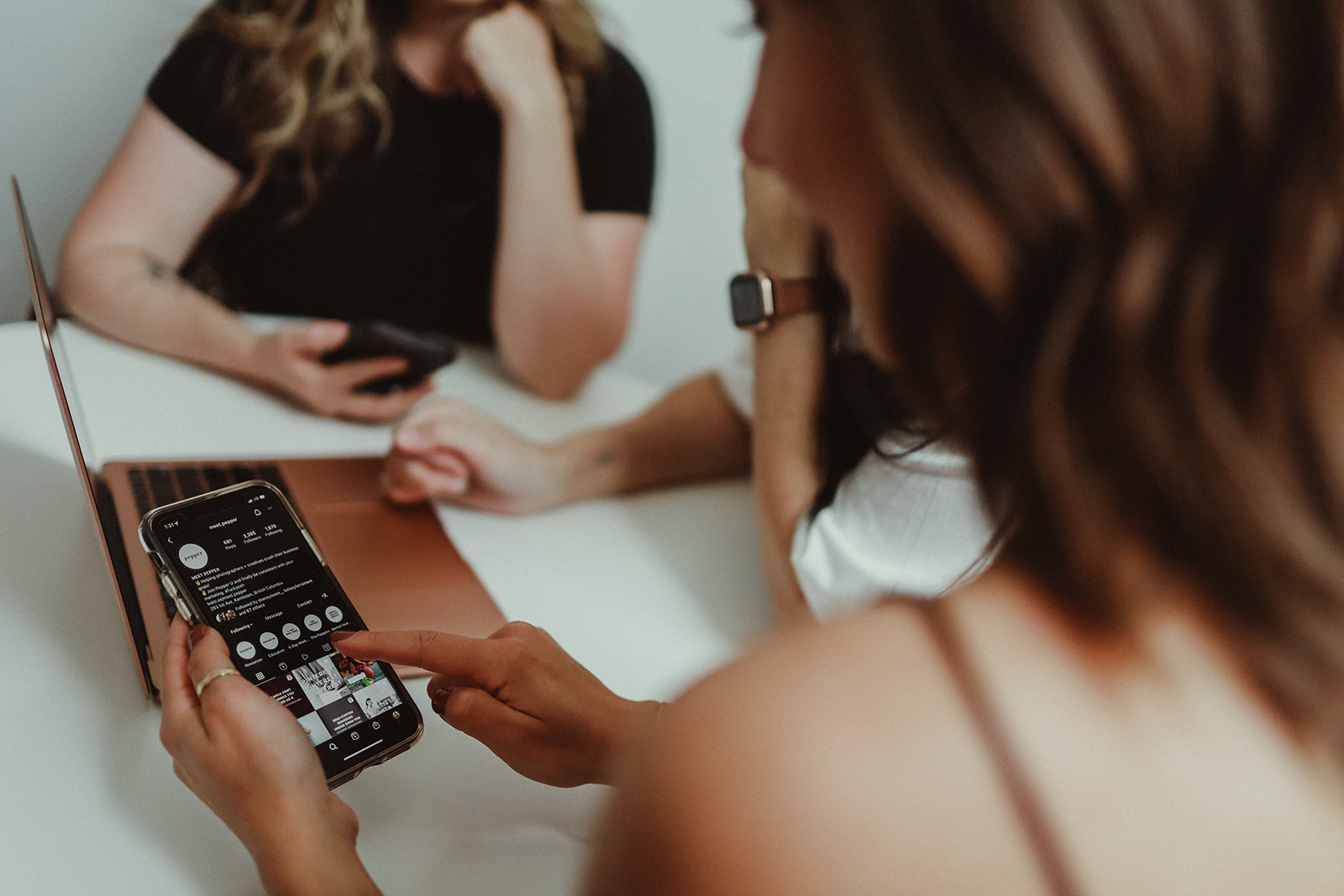 We don't blame you, because that shit is scary! And it seems to be happening more and more frequently. 😬
This issue is especially concerning for boudoir photographers on Instagram, since their work often walks the line between being "acceptable" and breaking Instagram's Community Guidelines or Instagram's Terms of Use. It can be pretty easy to let a toe (or nipple) slip over that line.
That being said, photographers from all genres are wondering how to get back a deleted Instagram account, or how to prevent their accounts from being hacked or deactivated. Yikes.
When you've spent a lot of time and energy building a following on Instagram just to have it taken away with the click of a button, it can be devastating. Here at Meet Pepper, we've invested a shit ton of time into our Instagram account and while we don't rely on it for all our marketing and lead gen (and neither should you—more on that later), we are pretty sure some tears would be shed if we lost it. Okay, more like 100% sure.
So let's see what we can do to stop that from happening, shall we?
In this blog, we're going to talk about:
Why Was My Instagram Account Disabled? (And Tips for Preventing It From Happening)
Sometimes, it might seem like you had your Instagram account deactivated for no reason and without warning. Here are some reasons why it might have happened.
Reason #1: Violating Instagram's Community Guidelines or Terms of Use
Typically, Instagram accounts are disabled because they have shared something or engaged in a way that doesn't follow Instagram's Terms of Use or Community Guidelines. We recommend familiarizing yourself with both, but here are some things to watch out for.
Some Rules in Instagram's Community Guidelines and Terms of Use:
Share only your own photos and videos, or ones that you have the right to share. Don't share images you've copied or collected from the Internet that you don't have the right to share to avoid copyright infringement and respect intellectual property rights.
Share content that is appropriate for a diverse audience, which means no nudity or sexual content (more on this below).
Don't be spammy, which means don't pay for likes or followers, repeatedly contact people for commercial reasons, share repetitive content, offer money for engagement, or impersonate others. We all know there are a lot of spam accounts on Instagram—blerg.
Don't be unlawful, misleading, or fraudulent—duh—but you might want to check this one more closely if you offer sexual services, alcohol, or legal drugs. Also, sharing or threatening to share intimate images of others without their permission is a big no-no.
Respect other members of the community, which means no credible threats, hate speech, blackmailing, harassment, serious threats of harm, theft, or vandalism. Also, you cannot encourage violence or attack anyone based on their race, ethnicity, national origin, sex, gender, gender identity, sexual orientation, religious affiliation, disabilities, or disease.
Do not glorify self-injury, which includes content attacking or making fun of victims or survivors of self-injury.
Be thoughtful when posting newsworthy events, which includes graphic violence. It's recommended to include a warning if you're sharing it to raise awareness or educate.
Some of these Instagram rules are pretty cut and dried, while others feel a bit more convoluted. You might have an idea of what you did to have your account deleted, or you might still be sitting there dumbfounded. Either way, you can try to appeal (but if you did break the rules, getting your account back might be tough).
Following Instagram's Rules About Nudity as a Boudoir Photographer
Let's dive a little deeper into the Community Guideline that you must share content that is appropriate for a diverse audience, which is where Instagram's rules against nudity come in.
Here is what it says about nudity on Instagram in the Community Guidelines:
"We know that there are times when people might want to share nude images that are artistic or creative in nature, but for a variety of reasons, we don't allow nudity on Instagram. This includes photos, videos, and some digitally-created content that show sexual intercourse, genitals, and close-ups of fully-nude buttocks. It also includes some photos of female nipples, but photos in the context of breastfeeding, birth giving and after-birth moments, health-related situations (for example, post-mastectomy, breast cancer awareness or gender confirmation surgery) or an act of protest are allowed. Nudity in photos of paintings and sculptures is OK, too."
So, here's what NOT to share on Instagram as a boudoir photographer:
Closeups of fully nude butts
Female nipples, unless the subject is:

Breastfeeding
Giving birth
After-birth moment
Health-related situations (post-mastectomy, breast cancer awareness, gender confirmation surgery)
An act of protest
A painting or sculpture
Tips for sharing boudoir photos on Instagram without breaking the guidelines:
The not-so-free nipple: Many boudoir photographers have tried scribbling out or blurring out the female nipples in their photos before posting them to Instagram with success. It's an especially handy technique if the nipple is not too obvious in the first place. However, this method is not guaranteed to work, so proceed at your own risk. Or you could always Photoshop some male nipples on top, because y'know, those are okay. 🙄
Kind of a pain in the ass: Unlike nipples, a closeup image of a naked butt is harder to cover up, and will probably end up taking too much away from your image. It might be best just not to share it here.
Make sure you have permission to share: Of course, you should always make sure you have the client's permission to share their photos. Even if it's included in your contract, make sure you have explicit permission to share the selected photo. The last thing you want is a client reporting their own photo because they didn't want it out on the Internet.
Share your spicier images somewhere else: Just because you can't share all of your boudoir images on Instagram, that doesn't mean you can't show them off! This is why it's so dang important that boudoir photographers (and all photographers) have a website, blog, and newsletter. (btw Pepper can help y'all with that!)
PS: If you're a boudoir photographer, you should also check this blog out: Boudoir Photography Tips & Inspiration. We think you'll like it!
Reason #2: Your Instagram Account Was Hacked
Another reason why your Instagram account might be locked is because you were hacked, and people reported the hacked account.
This means the account technically violated the Community Guidelines since it is being controlled by somebody who is impersonating someone else—they're impersonating you.
Instagram account hacking is happening increasingly often.
How to Protect Your Instagram Account from Hackers
If you're wondering how to prevent your Instagram account from being hacked, here are some tips:
Set up two-factor authentication on Instagram (you can watch a how-to video tutorial for how to set up two-factor authentication on Instagram here).
Only share your login information if absolutely necessary, and make sure you trust them (ex: A virtual assistant or marketing agency you are outsourcing to might need your logins since—as of now—there is no way to add other admins to your account). Another option is to set up a social media scheduler in which case you may not need to offer your login information.
Pick a strong password.
Make sure the email address attached to your account is secure.
Watch out for emails about suspicious activity concerning your account, and change your login information right away if you are alerted.
Revoke access to third-party apps.
Reason #3: Your Instagram Account Was Reported by Someone
Instagram encourages users to report posts or accounts that violate their Community Guidelines and Terms of Use.
It's possible that someone didn't like something you shared, or felt that it was offensive, inappropriate, or against the rules, and reported it.
However, reporting something on Instagram doesn't mean the account will automatically be shut down. Instagram reviews the content first to decide whether or not it does in fact go against the Guidelines.
Reason #4: You're Using Unapproved Third-Party Apps on Instagram
There are several third-party apps for Instagram with different uses, such as Instagram scheduling apps, analytics reporting apps, or "account growth" apps.
However, only some third-party apps are approved by Instagram. Mainly social media scheduling apps. Some popular ones include Later, Planoly, Hootsuite, and Sprout Social.
Apps that offer likes and follows are against Instagram's Community Guidelines, so it's important to steer clear. Not only that, but many of them are untrustworthy.
How to See and Remove Third-Party Apps From Instagram (While You Still Have Access)
Go to your Instagram Profile.
Click the three lines in the top right corner.
Click Settings.
Click Security.
Click Apps and Websites.
You will see that apps can either be Active, Expired, or Removed.
Check your Active apps and click Remove next to ones you'd like to disconnect.
Reason #5: It Was Just a Dumb Mistake
At this point, you might be looking at the above list thinking, Hmmm…okay, maybe I did violate the Guidelines a tiny bit or, Oh shit! Maybe I was hacked.
But if you're still not sure what the heck you did to deserve having your photography Instagram account deactivated, it's possible it was just a mistake on Instagram's part. Changes in this algorithm, which we all know happen fairly frequently, can cause glitches.
But don't worry, there are steps you can follow to have your Instagram account reinstated (keep reading!).
How Will I Know If My Instagram Account Was Disabled?
If your Instagram account was disabled, you will see an error message stating that your account has been disabled for violating Instagram's terms, and it will give you an option to click "Learn More".
Also, friends won't be able to find your account anymore or send you a DM, or your page will say that you have no posts.
Instagram Account Deactivation vs. Instagram Login Issues
Another possibility is that you're just experiencing Instagram login issues. In this case, you'll see a notice pop up that your password was incorrect and/or prompting you to recover your password. Simply follow the steps and you should be good to go, unless someone has hacked you and changed your email address (more on this below).
What To Do If Your Photography Instagram Account Was Deleted
Before diving into how to reinstate your Instagram account, we want to quickly address the issue of deleted Instagram accounts. Having your account deleted or deactivated/disabled are two different things.
Why would your Instagram account be deleted? Well, if someone hacked your Instagram account, they might have gone ahead and deleted it. Also, once an account has been deactivated by Instagram for a certain period of time without being reactivated, it will likely be deleted.
If you try to log in and you receive a notification that your account was deleted…well, you might want to take a seat before reading on.
As far as we know, there is no way to retrieve a deleted Instagram account. We still recommend trying to close the app and log in again and contacting Instagram in case it was a glitch. But you might want to prepare yourself to create a new account.
When an account is deleted, you can usually use the same username and email address to create a new one, but you will be starting from scratch when it comes to building your feed and audience.
We know it fucking sucks, but consider it an opportunity to start fresh with a kickass social media strategy and build something really authentic to the photographer you've become, with an engaged audience. Remember, the number of followers isn't as important as how engaged those followers are!
Also, if the idea of this puts a huge pit in your stomach, make sure you read the last section of this blog.
What To Do If Your Photography Instagram Account Was Deactivated
Okay, here is the part that many of you have been waiting for! First, we have to admit that it's not guaranteed you will get your account back, especially if you did, in fact, violate the terms.
But many people do get their Instagram accounts back by going through the appeal process.
How to Re-enable Your Instagram Account
1. You will see an error notice pop up when you try to log in:
"Error. Your account has been disabled for violating our terms. Learn how you may be able to restore your account."
2. You will then be given the option to click "Learn More".
3. You will be brought to a page that explains the terms and also gives you an option to appeal the decision.
4. You will be asked to fill out a short form with your username, email address, phone number, and why you are appealing. Fill it out as completely as possible. In the section asking why you want to appeal the decision, keep it short but clear and firm. Explain that you don't understand why your account was shut down, what your account is for, and what your business is.
If you weren't automatically brought through this process on the Instagram app, you can also find and fill out the forms here:
5. Eventually, you should receive an email from Instagram that will likely ask for you to take a picture of yourself holding a sheet of paper with your name, username, and a specific code written on it and send it back to them. They may ask for additional information if you have a business account.
6. Hopefully, you will hear back from Instagram saying that your account has been reinstated.
7. If you don't hear back, you can try filling out the form again or filling out the impersonation form claiming that your account has been hacked.
8. If you have a Facebook business account and use Facebook ads, you can try contacting Facebook support.
How Long Will it Take for My Instagram Account to be Reinstated?
It depends. Some people have their account reinstated within a couple days, especially if it was disabled by accident.
For some people, it can take weeks and multiple reach outs.
For others, the answer is never. But follow the steps and hope for the best!
What To Do if My Instagram Account Was Hacked?
If your Instagram account was hacked, here are the steps we recommend taking:
Try logging in to change your login information, if you can. If yes, you should be good to go.
Check to see if you received an email from Instagram saying that your account's email was changed and let them know it wasn't you.
If prompted, request a new login link to be sent to your phone number instead of your email address.
If this doesn't work, or you don't have the option, fill out the form to report an impersonation account on Instagram. Similar to the disabled account appeal forms, you will likely receive an email from Instagram asking you to send back a picture of yourself holding a sheet of paper with your name, username, and the code they send.
You can also ask friends to report the account as an impersonation account.
The difficult thing here is that impersonation accounts are against community guidelines, and so the account might end up being disabled rather than given back to you right away. But it's still best to get it deactivated rather than have someone out there impersonating you or sharing spam from your account!
How to Avoid Being Hacked on Instagram Again
If you get access to your account again, take these steps to avoid being hacked on Instagram:
Change your password and make sure it's a strong one.
Double check your privacy settings.
Real Talk—Is Instagram Still Good for Photographers?
This is such a big topic lately, it could really be a blog of its own. Many photographers are frustrated with Instagram lately. Account deactivations aside, it's just not what it used to be.
In the past, Instagram was the place for photographers to market themselves. It was photo-centric and visual, the audience was huge, and there was plenty of opportunity for growth. Since the demographic is so vast, it was a place where photographers could share their work and reach potential clients, and not just other photographers.
In some ways, that's still the case, but the platform is changing. But some photographers are even leaving Instagram to spend more time and effort on other photography marketing tactics. Some are choosing to put more focus into other social media platforms like TikTok, Twitter, and LinkedIn.
Why Are Photographers Leaving Instagram?
For a few reasons:
Organic growth on Instagram is getting harder and harder due to the changing algorithms and clutter.
Instagram has claimed it's no longer a "photo-sharing app", and instead is prioritizing video content, such as Reels (AKA copying TikTok 😜).
Instagram is expected to continue making moves to focus more on eCommerce and Instagram Shopping.
Creating and sharing content can take a lot of time and energy, and doesn't always pay off (especially if you don't have a strategy).
Instagram, and all social media, are considered "rented media". That means you have little or no control over it—from who sees your posts, to what happens to your account, to what happens to the platform. This is different from "owned media", like a website, newsletter or blog.
Why Should Photographers Keep Using Instagram?
While we know Instagram can be frustrating (especially if you're using it for your photography business and dealing with a deactivated Instagram account), there's still a lot to gain from this platform.
There is still a huge audience on Instagram, and many photographers still use it to successfully generate leads and book gigs.
It can serve as a great portfolio and way to share your personality.
Instagram is still a rad place for PR, relationship building, networking, and DM strategies.
Creating videos can be fun! Having to learn a new skill, like making Reels, isn't the worst thing ever and it can help spark creative ideas and showcase your work and personality in new ways. Plus, there's a reason why platforms are prioritizing video content—because people like it. And sometimes you've just gotta give the people what they want!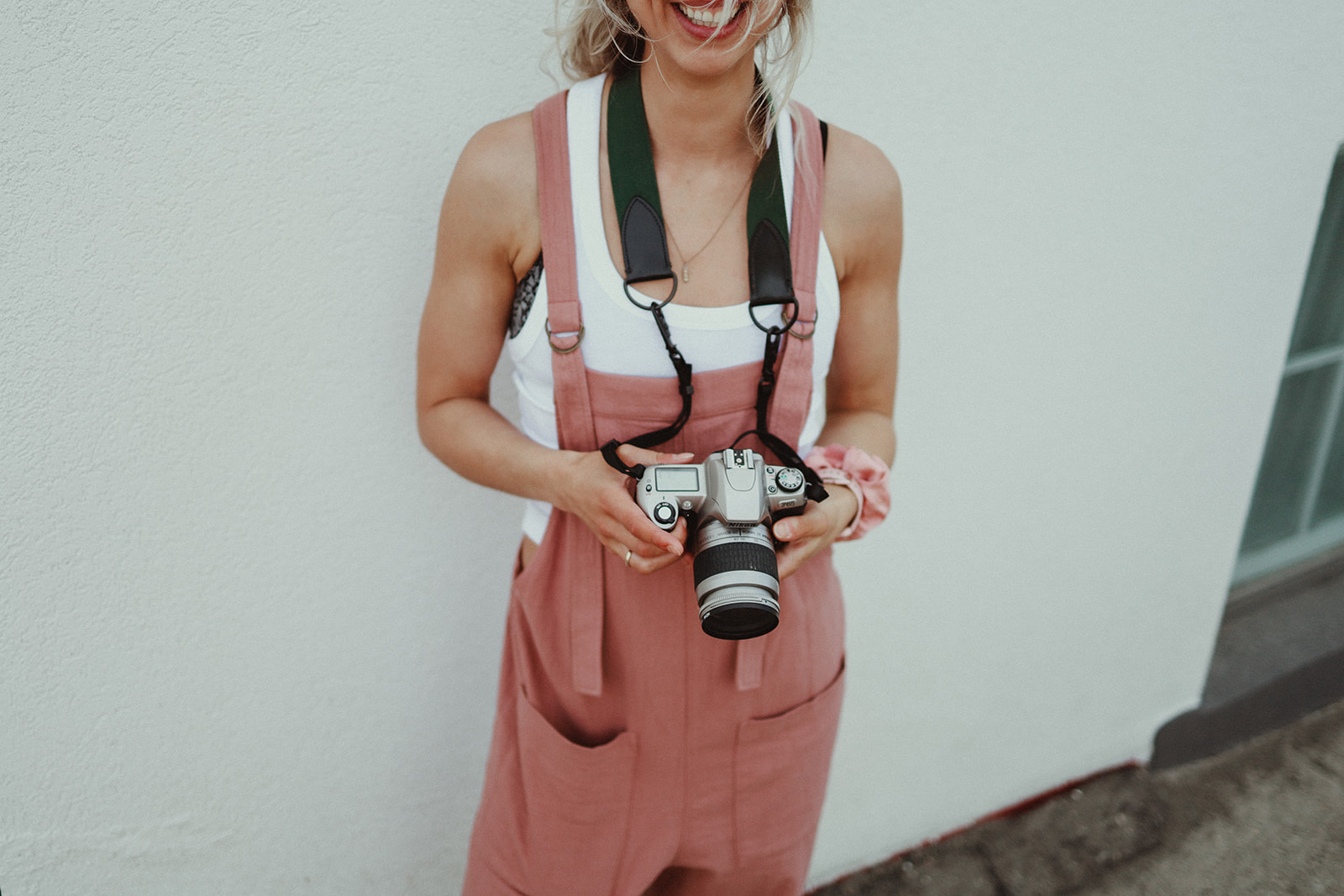 How to Be Successful on Instagram as a Photographer
The key is to make sure you're finding that balance between keeping up on trends and staying true to what makes you unique.
Instead of focusing on vanity metrics like how many followers you have, or trying to create content that appeals to everyone, focus on sharing what feels authentic to you, building community, and connecting with the people who dig you for you.
It doesn't hurt to go into it with a marketing strategy that covers other tactics, as well.
Some other Instagram tips and resources for photographers:
Diversify Your Photography Marketing
The truth is that since Instagram used to be so kickass for photographers, a lot of business owners threw all their eggs in the Instagram basket.
The issue with this is that once that platform changes or is taken from us, we're screwed. And since it's rented media, and we have so little control over it, we know this could happen at any time.
That's why it's so important to include multiple different tactics in your marketing strategy. It'll help you avoid that gut-wrenching, the-world-is-ending, I-might-as-well-give-up-and-become-a-professional-mime feeling when something does go wrong.
Not only to cover your ass, but because it's great to have multiple touchpoints and ways to connect with potential clients.
It makes you appear more professional and will give you a heck of a lot more opportunity to grow your business.
Okay, But How Do I Diversify and Create a Photography Marketing Strategy?
That's a bit too much to cover in this blog, which is already long AF, but here are some other resources that can help:
We Hope This Helps!
If you try any of the tips in this blog, we'd love to hear how it goes or know if you need more help and advice. Join the Pepperverse Facebook Community and let us know!
Kayleigh Zinger
Rockstar Content Creator
Pepper – Your Badass Business BFF Inc.